Don't be ripped off with slow, overpriced internet service. Save time & money with high speed DSL Cable and T1 internet service. Choose from a wide variety of bandwidth packages for both residential and business customers. Discover how you can enjoy the benefits of High Speed Internet Service while paying LESS! We also have a quality selection of discount dial-up internet service providers.
---
High Speed Internet Services
---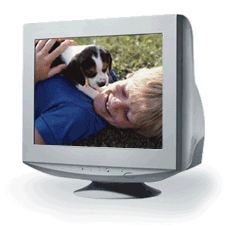 Happy with your SLOW dial-up connection?

You don't know how unhappy you are with it until you try surfing the net in Cable/DSL time. No more waiting for the Web to load graphics and text at painfully slow speeds. No more tying up the phone line or requiring a second costly phone line! High speed cable internet and DSL service can actually be cheaper than most dial-up internet services! Discover a brand new internet full of music, video, and games! You have to check it out.

DSL Service and Cable Internet Can Actually Be Cheaper!

When you factor in the cost of your current Internet Service Provider ($23.95), the cost of a second phone line ($30.00), both of which you will no longer need, and (most importantly) the time you waste waiting for data online, it actually be cheaper to surf the net at broadband Cable or DSL speed! Now that's a No-Brainer!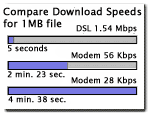 Travel at Click-Speed With High Speed DSL or Cable Internet Service

With High-Speed Internet Service, pages that used to take excruciating long minutes to load via dial-up now jump to life in mere seconds, up to 100 times faster! Downloading files, sending emails and transferring data are no longer awkward novelties, but an efficient way to work and get things done.

Click here to find out how you can order DSL service or Cable Internet Service today!
---

USA + Canada Dial-up Internet Service Providers

---

Unlimited Dial-Up Internet Service for just $8.95 per month!

ISP.com Internet Service offers 56K connections, unlimited access to the web, service available from thousands of dial-up locations in the U.S. for just $8.95 per month. ISP.com has no set up fees, no contracts, and no prepay commitments. Besides the low price, ISP.com offers you lots of great features such as:

Free anti-spam/anti-virus service is automatically included with every email account. Reduce or even eliminate damaging, unwanted and annoying e-mail messages.
Over 3,400 dial-up access numbers. If you travel often or have to move, you can still use ISP.com as your Internet Service Provider from almost anywhere in the United States and Canada.
Free Wi-Fi Access. Connect with your wirelessly enabled laptop anywhere on the nationwide HOTSPOTZZ Wi-Fi network free of charge.
10 E-mail Accounts. Get an ISP.com e-mail address for every member of the family or have separate addresses for home and work. WebMail service is also included so you can access your e-mail from anyplace in the world where you can access the internet (e.g. internet cafes, hotels with internet services, etc.).
Personal Webspace. All ISP.com customers receive a whopping 100MB of personal webspace.
Web Accelerator. Need even more from your dial-up connection? Supercharge your internet connection with the ISP.COM High Speed Web Accelerator and surf the internet at speeds of up to 7 times faster than regular dial-up. Just $4 extra per month.
Customizable Start Page. Log in and customize your MyISP.com Start Page. Add or remove news sections, upload and share pictures, get local weather info and more.


---

NetZero is fastest growing Internet Service Provider in the U.S. and with good reason!


Why pay $23.90 for internet access? For less than half that price NetZero Platinum gives great connections, no banner ads & faster page loads. With NetZero Platinum you get fast reliable internet service for only $9.95 per month. In addition to their Platinum internet service, NetZero also offers NetZero HiSpeed Internet Service for $14.95 per month. NetZero HiSpeed Internet Service requires NO cable modems, NO DSL lines and NO waiting - and it's available wherever regular NetZero internet service is!

---

"Pay As You Go" Prepaid Internet Service - Global Internet Service for Travel

---

"Pay As You Go" Internet Service Providers offer prepaid global dial-up internet access for those who travel and need low cost, high quality internet access. Prepaid Internet Service is also ideal for those who don't need more than 20 hours per month of internet connectivity and for broadband users who require internet access when away from the home or office.

MaGlobe "Pay As You Go" Internet Access

A MaGlobe Internet Service account gives you the freedom to get access the internet from any one of any of over 26,500 numbers in the USA and from over 30,500 worldwide access numbers in 115 different countries.

How does it work?

1) Simply purchase any of our plans.
2) Any time you use the service your starting balance decreases based on the actual time you are connected.
3) Recharge as needed anytime.

Apply For Service Now!

---

United Kingdom ISPs - Dial-up & Broadband Internet Services

---

---

---

Australian Internet Service

---

---